Video borescopes are versatile inspection tools used across various industries for visual inspection of hard-to-reach areas. They consist of a flexible insertion tube with a camera at the tip, which transmits real-time video feed to a display unit. This article highlights the essential specifications and features of video borescopes, aiding users in making informed decisions when selecting the right tool for their specific applications.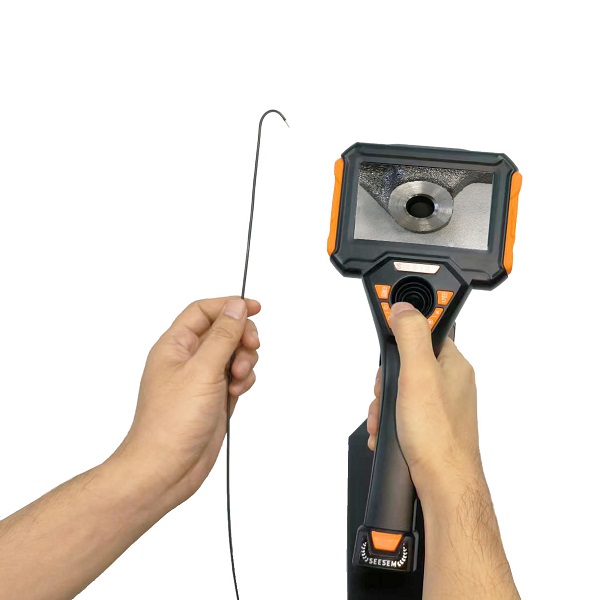 Insertion Tube:
Length: The length of the insertion tube determines how far the borescope can reach into confined spaces. Common lengths range from 1 meter to 5 meters, catering to different inspection requirements.
Diameter: The diameter of the insertion tube impacts the accessibility of narrow openings. Typical diameters range from 3mm to 8mm, allowing for inspections in various-sized spaces.
Material: High-quality materials like stainless steel or tungsten braided cables provide durability and flexibility, ensuring reliable performance in demanding environments.
Image Quality:
Resolution: A higher resolution camera provides clearer and more detailed visuals. Common resolutions include VGA (640×480 pixels), HD (1280×720 pixels), and Full HD (1920×1080 pixels).
Lighting: Adjustable LED illumination on the camera head ensures optimal visibility in dark or poorly lit areas. Multiple brightness settings enable users to adapt to different inspection conditions.
Display Unit:
Screen Size: The size of the display unit affects the viewing experience. Common screen sizes range from 3.5 inches to 7 inches, allowing for convenient inspection without straining the eyes.
Touchscreen Capability: Some video borescopes offer touchscreen functionality, simplifying menu navigation and image manipulation for a more intuitive user experience.
Image and Video Capture: The ability to capture images and record videos directly from the display unit facilitates documentation and sharing of inspection findings.
Articulation:
Articulation Range: Video borescopes equipped with articulating tips allow users to maneuver the camera head in multiple directions, enabling inspection of complex curves and angles.
Articulation Control: Precise control over articulation enhances maneuverability, enabling users to adjust the camera head with ease.
Power and Connectivity:
Battery Life: Longer battery life ensures extended inspection sessions without the need for frequent recharging. Common video borescopes offer battery life ranging from 3 to 8 hours.
Connectivity Options: USB, Wi-Fi, or HDMI connectivity enables seamless transfer of images and videos to external devices for further analysis or reporting.
Conclusion: When selecting a video borescope, considering the specifications and features mentioned above is crucial to meet specific inspection requirements. By understanding the insertion tube length, image quality, display unit capabilities, articulation, and power/connectivity options, users can choose a video borescope that optimizes their inspection efficiency and enhances their overall inspection process.