Instrument Introduction
---
S10 Lock Cylinder Inspection Video Borescope Industrial Borescope is used in the lock cylinder and NDT (non-destructive testing) work. Now it has been welcomed by police inspection, industrial manufacturing, and maintenance industries.
SEESEM S10 endoscope is a cost-effective ultra-thin endoscope specially used for police lock cylinders and microscopic space inspection. It has the characteristics of an ultra-thin pipeline, a clear image, and high color reproduction.
Product installation video:
Features
---
1. Diameter: 1mm, hose line length: 1-3 meters
2. Screen size: 4.3 inches WVGA (800×480) daylight screen
3. Image: It adopts a 160,000-pixel ultra-clear camera, which can clearly and accurately reflect the measured object's static image and dynamic video. It can collect image information and save it to the memory card.
4. Lighting mode: front LED lighting, brightness level 9 adjustable.
5. Shooting and recording functions: the device has a camera and video storage function, and the captured image files can be stored as JPEG/BMP files, and the video format is MP4 files, which can restore the details of the scene more realistically; it is equipped with play, pause, Fast forward and rewind functions.
6. Output port: Mini HDMI high-definition multimedia video output port, which can transmit uncompressed high-definition video with high quality, providing users with a more incredible visual experience.
7. Lightweight and portable: The machine weighs only 0.45kg, and the integrated handheld design makes it easy to carry.
8. Guidance system: no guidance, no delay in operation.
9. Image preview: Look back at the list; you can watch and delete it in full screen in preview mode.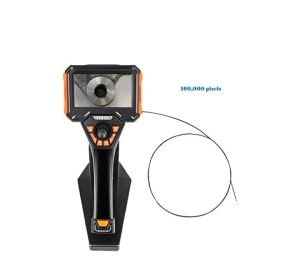 *Need to turn to customize according to needs
Product parameters
---
| | |
| --- | --- |
| Host machine | |
| Host size | 295mm*136mm*60mm |
| System weight | ≤0.45kg(Including battery weight) |
| Chassis size | 415mm*340mm*144mm |
| Replaceable insertion tube | The spare insertion tube can be replaced by yourself. |
| Mainframe base | Super magnetic solid adsorption base (optional) |
| Protective | Probes, objective lenses, and pipelines can withstand IP67 oil-proof, waterproof, and anti-corrosion |
| Drop level | 1 meter |
| | |
| --- | --- |
| Power supply | |
| Power | Rechargeable lithium battery (replaceable) |
| Battery capacity | 4.2V, 5000mAh |
| Host working hours | ≥6 hours |
| Charging parameters | DC5V, maximum current 2A |
Operating environment
Operating temperature of the host system
-10C~50C
Operating temperature of the host system
-20°C~60C
Video probe working temperature
-20°C~60°C
Relative humidity
15 to 90%, non-condensing
Standard configuration:
High-end instrument case, endoscope host, one rechargeable lithium battery, card reader, 32G TF memory card, charging plug, data cable, instruction manual, certificate of conformity, warranty card, HDMI cable, magnetic solid Adsorption base.
Industrial videoscopes, also known as borescopes, are versatile inspection tools used in a variety of industries. They are equipped with a tiny camera on the end of a flexible insertion tube that allows for visual inspection of hard-to-reach areas. In this article, we will discuss the applications of industrial videoscopes.
Product daily use video:
Automotive industry
Industrial videoscopes are widely used in the automotive industry to inspect engine components, fuel systems, and other critical parts. The ability to inspect the inside of engine cylinders, fuel injectors, and other components without disassembling them makes videoscopes an invaluable tool for automotive mechanics.
Aerospace industry
Aerospace engineers use industrial videoscopes to inspect the inside of aircraft engines, airframes, and other critical components. The ability to visualize the inside of tight spaces, such as the interior of turbine blades, is essential for maintaining the safety and reliability of aircraft.
Manufacturing industry
In the manufacturing industry, videoscopes are used to inspect welds, castings, and other components for defects. They can also be used to inspect the inside of pipes, tanks, and other vessels for signs of corrosion, blockages, or other issues.
Plumbing industry
Plumbers use videoscopes to inspect the inside of pipes and drains for blockages, leaks, and other problems. They can also be used to inspect sewer lines and other underground plumbing systems without the need for excavation.
Electrical industry
In the electrical industry, videoscopes are used to inspect electrical wiring and components, including circuit breakers and control panels. They can also be used to inspect the inside of transformers, generators, and other electrical equipment.
Medical industry
Industrial videoscopes are used in the medical industry to perform non-invasive inspections of the human body. They are commonly used for gastrointestinal and urological procedures, allowing doctors to visualize the inside of the body without the need for surgery.
In conclusion, industrial videoscopes are versatile inspection tools that are used in a wide range of industries. Their ability to visualize hard-to-reach areas makes them an invaluable tool for inspecting critical components, identifying defects, and maintaining the safety and reliability of equipment and systems.
Industrial endoscopes with a diameter of 1.0mm are commonly used in various fields, such as automotive, aerospace, and electronic industries. These endoscopes have several distinct characteristics that make them ideal for inspection and maintenance tasks.
Firstly, their small diameter allows for easy access to tight and narrow spaces. This feature is especially useful in industries where space constraints are a common occurrence, such as in engine components or electronic circuits. The ability to inspect hard-to-reach areas helps to detect and diagnose potential issues early on, preventing costly repairs down the line.
Secondly, 1.0mm industrial endoscopes typically have high-resolution cameras that provide clear images and videos. This enables operators to inspect components and equipment in detail, identifying even minor defects or abnormalities. Additionally, many endoscopes come equipped with adjustable LED lights that illuminate dark areas, making inspections more efficient and effective.
Thirdly, many 1.0mm industrial endoscopes have flexible insertion tubes that can bend and articulate, allowing operators to navigate around corners and curves. This flexibility is crucial in industries such as plumbing and HVAC, where the endoscope needs to navigate through pipes and ducts.
Lastly, 1.0mm industrial endoscopes are often designed to be durable and rugged, capable of withstanding harsh environments and rough handling. Many models are water-resistant, dust-proof, and even drop-resistant, ensuring they can withstand the rigors of regular use in demanding industrial settings.
In summary, 1.0mm industrial endoscopes have a range of characteristics that make them a valuable tool for various industries. Their small diameter, high-resolution cameras, flexible insertion tubes, and rugged design make them ideal for inspections and maintenance tasks in tight spaces and harsh environments.